What's next in the residential market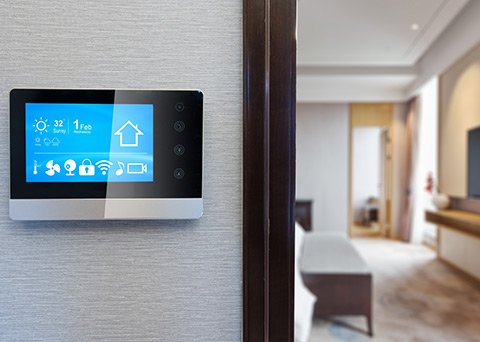 The pandemic has profoundly changed the way many of us think about how we live and work, reflected in a growing smart home sector.
In the smart home sector, technologies for health and wellbeing, 'living at work' and sustainability have risen to the top of client agendas – and all of these will be reflected at ISE 2023.
Momentum in the residential space is contributing toward a global smart building market worth over $265 billion by 2028 (per Fortune Business Insights).
A recent study of the UK professional integrated home market by CEDIA, co-owner of ISE, reveals a confident industry in excellent shape: 88% of companies are forecasting revenue growth in the next 12 months. Key growth areas are integration/control, home cinema and networks. CEDIA believes these findings also broadly apply across leading EMEA markets.
The next big development for home automation is the deployment of Matter. Matter is a common protocol that will enable devices from participating manufacturers to talk to one another. CEDIA believes this will go a long way to help solve current interoperability issues and will further enable selection of best-of-breed products for specific tasks rather than needing to stay in-brand.
Thread is a low-power mesh networking protocol that promises to make the smart home more robust. While many Thread products are expected to gain Matter support, don't make any assumptions — look for promises from manufacturers at ISE 2023.
CEDIA is banking on integrators to step up their practices and meet the tide of consumer demand for personalised automation. This requires a greater focus on the discovery process in which the specific needs of all stakeholders in a residence are understood.
The increase in TV and online video watching in 2020 resulted in an uptick in demand for dedicated cinema or media rooms with bigger screens and powered-up audio. Similarly, our collective home time is generating demand for cabling that enables outdoor lighting and entertainment systems, in turn helping people to be sociable with garden spaces for wellness and mental health.
Where to find residential solutions at ISE 2023
ISE's Smart Building Conference is the must-attend pan European conference for professionals working in the smart building industry, covering residential as well as commercial opportunities. On the show floor of ISE itself, visitors will find plenty to inspire them in the Residential & Smart Building Zone in Hall 2, and CEDIA will present a programme of content each day on a dedicated stage.
Some of the major brands present in this Zone include CEDIA; Presenting Show Partner KNX; controls manufacturers including Basalte, Lutron, Rako, RTI, Savant and Snap One (owner of Control 4); and residential audio specialists including Focal, Sonance and Trinnov Audio.
In Hall 3, Crestron offers a variety of control devices and unified communications systems.
Look too for the first signs of products certified compatible with Matter.