What's next in the education market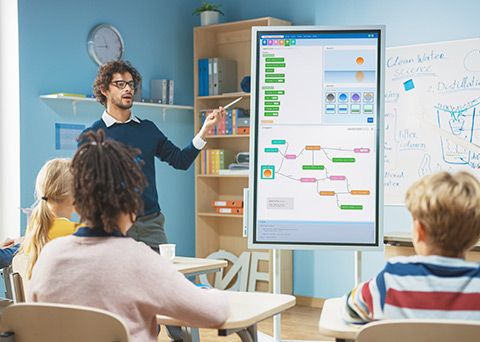 The education sector has long represented fertile ground for the AV industry, with teaching spaces at all levels using technology to improve engagement and enhance student outcomes.
Post-pandemic, institutions are quick to invest in technologies that enable hybrid learning as well as resuming larger projects that had been put on hold during Covid. Indeed, according to the 2022 IOTA report from AVIXA, this was one of the quickest sectors to recover from the impact of the pandemic and is now the fourth-largest EMEA pro-AV market, representing revenue of $25.4 billion in 2022.
The increased interest in hybrid learning also feeds into the growing trend for asynchronous learning, where students are able to study at a time that suits them. To address digital inequality, the focus now is on ensuring accessibility to materials for all, making more engaging content available offline and offering a wider range of content.
While videoconferencing systems and kit to broadcast lessons online has been a focus of investment, more traditional learning tools such as interactive whiteboards and projectors are also finding a new lease of life, especially where students can connect them with their own devices to share and access content. Video projection still represents the largest segment within education, accounting for 20% of revenues in 2022.
The introduction of augmented reality (AR), virtual reality (VR), mixed reality (MR) and 3D simulations could be about to take student participation to the next level. Highly interactive virtual learning environments utilising these technologies, without headsets, are already being used for a variety of lessons.
Looking ahead, education could even move into the metaverse, with AR and VR combined with distributed ledger technologies providing new ways for students and tutors to interact with each other.
Greater adoption of cloud technology has been a key enabler for many of these advances. In the future, data analytics will likely play a bigger role, giving insight into learner behaviours and how offerings can be made more impactful.
As in so many other sectors, AI is likely to have a greater role to play in education in the future. The ability to automate time-consuming activities such as marking is one area to watch, as is AI's ability to develop more personalised learning plans for students that progress at a rate tailored to each learner.
Where do I find the most important companies in education technology at ISE?
At ISE 2023, leading names supplying the education sector will be found in the Unified Communications & Education Technology Zone in Hall 2. Big brands already confirmed include HP, Intel, Jabra, Microsoft and Zoom. On the display side, Clevertouch and Viewsonic will be among those showing their latest advances, and content sharing platform ScreenBeam and collaborative tools from Ricoh, Neat and (in Hall 3) Crestron will all be available for demo.
On the audio and processing side, look out for QSC, Sennheiser, Shure and Symetrix. Further innovations in this area can be found in the Audio Zone in Hall 7.
It's also worth paying a visit to the Digital Signage & DooH Zone in Hall 6, where you'll find relevant solutions from companies including Scala, Telelogos, RGBLink and more.